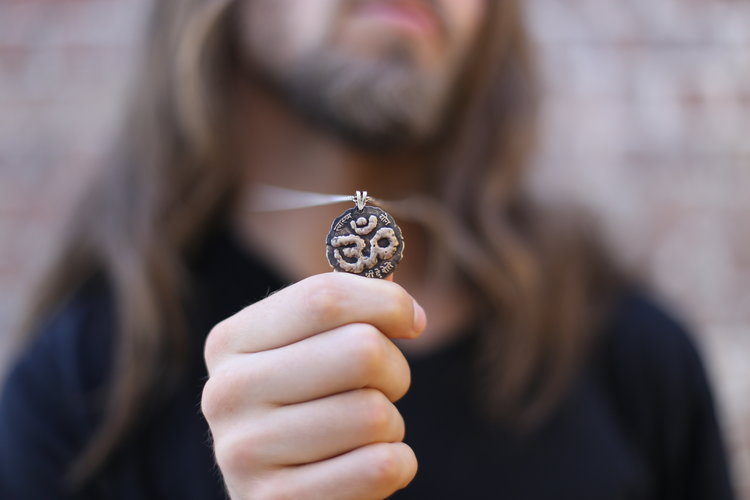 Available in Sterling Silver, 18k Gold & Bronze
Now you can proudly wear these ancient and elegant symbols of power and evolution with our carefully crafted pendant designed to preserve its power.
☞ Artisanally crafted with a stamping press.
☞ Available in Sterling Silver, Bronze and 18k Gold
☞ Available in the sizes small and medium.
Our beautiful ÔM pendant that has been carefully crafted by artisans who understand and respect its ancestral design.
ORDER YOURS NOW WHILE OFFER LASTS
Our Money Back Guarantee
We offer a "HASSLE-FREE" 30-day return policy. We are serious about customer satisfaction and we believe it's important to treat every customer with love and respect. Life's simply better this way for us and our customers. We are grateful for every customer who invests in our products. Full refunds are completed within 2 days of product return.
Buy the Ancient Om Pendant Right Now Save 20%
OFFER VALID limited time only
Check Out Our Real Testimonials
The material is thick and sturdy and the style of the design feels ancient and authentic, relating to the origin of this symbol. The Ôm is the sound of universe and this pendant symbolizes the visual representation of that sound.
I have always been interested in sound, acoustics and frequency, even more so now that I know that all matter is represented by a certain frequency - therefore everything is sound! I am proud to wear this, representing my harmonic commune with the universe and to connect with the philosophy that this design represents.
- Greg Barr
Our double-sided pendant can be used simply as an accessory or for mindfulness meditation.
The ancient ÔM symbol displayed on our pendant represents the sound of the universe and is considered the matrix of all sounds. It's the ancient Indian equivalent of the "big bang" concept. As with many of the contributions made by these wise ancient Indian philosophers, it is likely that Western science will discover that the Big Bang was actually more like a "Big ÔM".
This symbol is evidently pre-Sanskrit (note the stylization differences between the rectilinear character of Sanskrit and the curvilinear character of the ÔM) and pre-Hinduism (Hinduism arose from the encounter between the Aryan and Dravidian cultures roughly 3,000 years ago), and derives from a highly educated and sophisticated ancient culture that has since been erased from the collective historical memory.
At this point, it is difficult to make a definitive link, but most of the evidence shows it is likely of Dravidian origin, or perhaps older.